Alright so
I would like bring back some memories, and talk about a guy named [vimper]solo
In case you have forgotten , here is a little something that might ring a bell or two:
http://ass-clan.forumotion.com/t869-is-this-guy-an-admin
I know, I know this guy is admin he got the rights to be one cause he's either loyal to the server or a good friend with the owner.
But his actions has become rather questionable when he accused one player, which we all know: Farhan aka Stylish
So this is what happened:
He joins a server , grabs a hunter , starts killing people when he gets the chance ( please do keep in mind that at the time he was using a different nick ). Everything seems normal, But.
When he wipes out the entire Downtown area ,
Including
Farhan , leaving me the only one alive , starts saying things that He is hacking.He come back moments after , Crashes his hunter down
in the street level , giving Farhan great opportunity to kill him. Without any hesitation he does that, and another set of messages can be seen , as if he uses the hacks again. This crashing, exploding and accusing
continues to happen till eventually he leaves. He come back with nick "[vimper]solo", and starts doing what his gut and emotions tells him to do: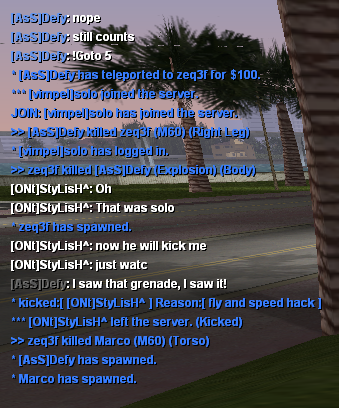 Which then follows up to...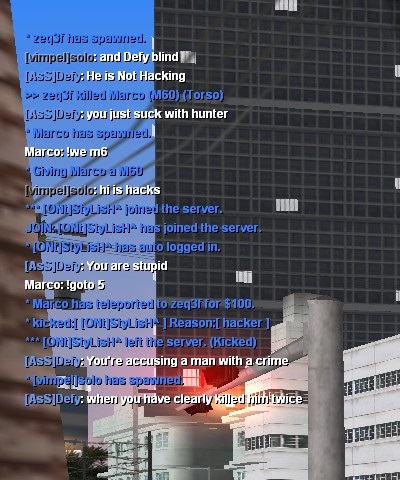 Later on , he stops the kicking stuff, implying that I am blind and that Farhan has been using hacks every since he was around to get pwned by him.
Then , the mentioned suspect , challenge solo into a stubby, later spaz and finally some subtle Fire fight.
Now I do not know where this guy is from , or How long he's been playing this, but he got his ass kicked majority of the time. I could count at least 4 times when he was lucky enough to Kill Farhan.
At the beginning of the whole Fighting thing, Every time he got killed , he still had the Bravery to accuse the mentioned client of Hacks , because his "Bunny-Hop-Based" Stubby experience didn't cooperated with him in
face of an experienced player.
My client will Post some Pictures below, that were captured at the time the whole kicking part begun, but also keep in mind that it was taken by the time mine was, just maybe his will contain some more
"Serious" reason of kicking one out of the server.
In conclusion:
This guy hasn't spent enough Time playing this game , seeing how it works , how players can take cover behind rhinos and cannot be killed if you're shooting at their moving character,Therefore,Making false accusations
and having innocent player kicked from the server. I strongly advise to reconsider about his Current Level in the server.He has the power to kick people , without even coming in close contact with them , and even when
he does, he gets his ass kicked multiple times (unless of course he grabs a Bike or a Hunter).
That would be all.